---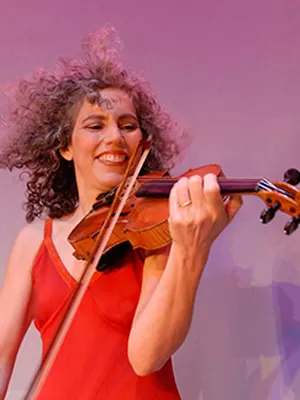 Born: 1963
Place of Birth: Bronx, New York City, NY
Alicia Svigals, violinist, a founder of the Grammy-winning Klezmatics, is the world's foremost klezmer fiddler. Alicia almost singlehandedly revived the tradition of Klezmer fiddling, which had been on the brink of extinction until she released her debut CD Fidl in the 1990's. She is also a composer who works in many genres, and most recently was awarded the prestigious New Jewish Culture Network grant by the Foundation for Jewish Culture for her original score to the silent film The Yellow Ticket.
She's taught and toured with violinist Itzhak Perlman, who recorded her compositions; and was awarded first prize at the Safed, Israel international klezmer festival. She's been featured in Eve Ensler's Vagina Monologues, at Madison Square Garden with Phoebe Snow, Glenn Close, Whoopi Goldberg, Susan Sarandon, and Brooke Shields. She's composed for the Kronos Quartet, and composer Osvaldo Golijov was commissioned to create a work for her ,entitled Rocketekiya. She's been featured on NPR's New Sounds Live and at festivals like Fiddle Tunes in Port Townsend and the Winnipeg Folk Festival.
In Svigals' band the Klezmatics, she created contemporary Jewish music that combined the joyous and mystical Yiddish tradition with a postmodern aesthetic and an political world view. She toured with the band for seventeen years and recorded albums which reached the top ten of the Billboard and European World Music Charts. They appeared on Prairie Home Companion, Rosie O'Donnell's Kids are Punny, Good Morning America, MTV News, Nickelodeon, the BBC, and NPR's Weekend Edition, and composed music for theater, dance and film, including the score to Tony Kushner's A Dybbuk and It's an Undoing World, Judith Helfand's POV documentary A Healthy Baby Girl, and for poets Allen Ginsburg and Israeli singer Chava Alberstein. Alicia's multi-media The Third Seder, featuring Tony Kushner and the Klezmatics, was presented by La Mama and by the Jewish Museum in New York. Alicia and the Klezmatics recorded two albums for EMI with violinist Itzhak Perlman, which became the best-selling folk albums of all time. They performed with him on PBS' Emmy-winning In the Fiddler's House and on David Letterman, and appeared in concert at Radio City Music Hall, Tanglewood, and Wolf Trap.
Ms. Svigals plays and writes music from heavy metal to traditional Greek and she's recorded on projects from Lipa Shmelzer 's CDs to the L-Word. Most recently, she wrote and recorded string quartet parts for singer/songwriter Diane Birch's debut, Bible Belt, and appeared on Gary Lucas and Najma Akhtar's Rishte. She was featured on Herb Alpert's recording of Belz, arranged by Marvin Hamlisch, on the 2008 CD A Jewish Songbook. She's appeared in stadium shows with Robert Plant and Jimmy Page of Led Zeppelin, recorded for John Cale's (Velvet Underground) album Last Day On Earth, and the Ben Folds Five's Whatever and Ever Amen, and improvised with Marc Ribot and John Zorn. She's written soundtracks to Judith Helfand's documentary The Uprising of 1934 with singer Peggy Seeger in an old-timey score, string quartets for singer/songwriter Debbie Friedman at Carnegie Hall, music for choreographer Risa Jaroslow at Lincoln Center and for author Thane Rosenbaum. She's featured on Avraham Fried's Avinu Malkeynu, and has arranged Lubavitcher nigunim (wordless spirituals) for her klezmer quartet on her CD Vodkazak, produced by a Chabad rabbi.