May 14, 2013 - 12:00 pm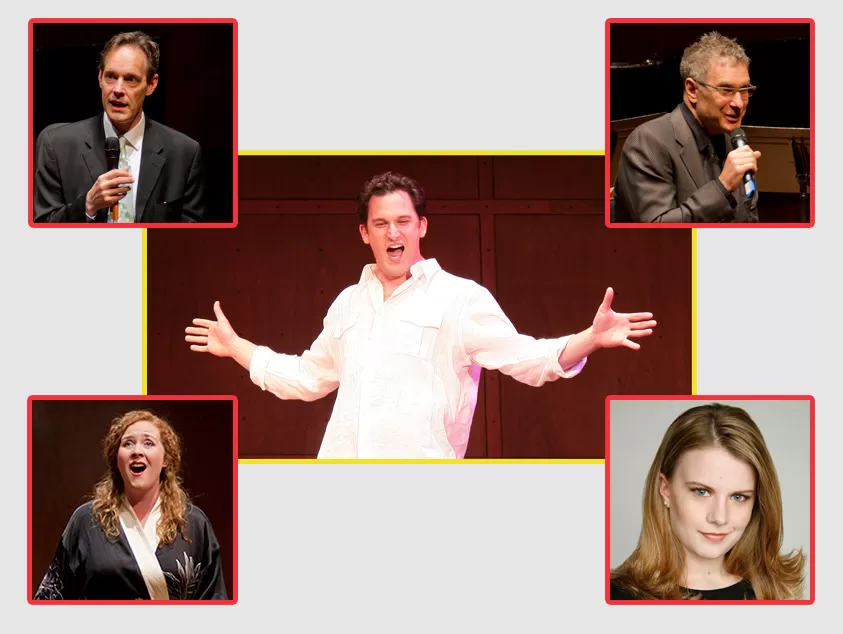 Our third commission from composer Jake Heggie and librettist Gene Scheer returns to the incredible-but-true life of Polish Resistance member and poet Krystyna Zywulska. Their companion piece to Another Sunrise puts music to her poems, offering a kaleidoscopic view of existence in Auschwitz through the eyes of someone whose survival depended on making unimaginable choices. In addition, we'll unveil a new a song cycle version that Heggie and Scheer have created from their pathbreaking musical drama For a Look or a Touch, featuring baritone Morgan Smith. You'll also hear music from Kurt Weill's Three Penny Opera—a work that needs no introduction— and a trio by László Weiner, a Hungarian composer whose life ended at age 28 in a concentration camp.
ABOUT THE MUSIC
Suite from The Three Penny Opera (1928)
Kurt Weill
(b. Dessau, 1900–d. New York, 1950)
It is safe to say that The Threepenny Opera did as much as any single other work to transform the musical stage during the first half of the 20th century. Kurt Weill's collaboration with Bertolt Brecht was part of their ambitious project for a radical renewal of the theater that began in 1928 with Mahagonny. The Threepenny Opera was based on John Gay's 1728 Beggar's Opera, whose 1920 revival in London had been playing for years. It premiered in Berlin in August 1928, and took Europe by storm. In its first year alone it was performed about 4,200 times in 46 productions. By the time of the Nazis' rise to power in January 1933 it had been translated into 18 languages, and it was the basis for a German film (also with a French version) that remains a landmark of early sound cinema. Its brashly eclectic musical style, its brazen characters and its colloquial language were perfect expressions of the jazz age during Weimar Germany's chaotic final years. Yet its universal appeal spread rapidly at a time when recordings and radio first created instant world-wide hits. Numbers like "Mack the Knife" have now become such popular standards on their own (with interpreters including Louis Armstrong, Ella Fitzgerald and Bobby Darin) that we can easily forget how daring The Threepenny Opera was in its day, and what an important impact it had.
Kurt Weill was among the first group of artists forced to leave the Third Reich. He was Jewish and active in leftist politics. His modernist jazz-inflected style was anathema to the authorities, who banned his music as "degenerate." To the Nazis, The Threepenny Opera was not merely indecent music. It was seen as an ideological statement that directly challenged the regime's legitimacy. Weill fled to France in 1933 after narrowly escaping a plan to arrest him, and he settled in the United States two years later. When the U.S. entered the war, Weill used his talents to help boost morale. One project, "The Lunch Hour Follies," brought Weill and his colleagues out to shipyards in Brooklyn and Long Island, where factory workers watched the satirical shows as they ate. "They had a wonderful time," Weill wrote about one such performance, "and when it all was over we heard them saying: 'We'll do twice as much work this afternoon.' We all felt that here is the most natural field of activity for all those writers, musicians and artists who are desperately looking for their place in the nation's War effort." Each show included some songs and sketches satirizing the Nazis.
The suite from The Threepenny Opera that we hear tonight is a 1930 arrangement by the violinist Stefan Frenkel (1902-1979). Frenkel was a close friend of Weill, and one of the first interpreters of his 1924 Violin Concerto. He premiered Weill's Concerto for Violin and Wind Orchestra in 1927, and his Concerto for Violin and String Orchestra in 1929. As concertmaster of the Dresden Philharmonic and a prominent soloist across Europe, Frenkel championed the music of contemporary composers. After the Nazi takeover, Frenkel's performances in Germany were limited to events of the Jewish Kulturbund. He fled to Geneva in 1935 to become concertmaster of the Orchestre de la Suisse Romande and a year after left for New York to be concertmaster of the Metropolitan Opera. Later he taught at Princeton University.
For a Look or a Touch (2007/13)
Jake Heggie
(b. West Palm Beach, FL, 1961)
Lyrics by Gene Scheer
*World Premiere of Song Cycle, Commissioned by Music of Remembrance
Lyrics and texts based on entries from Manfred Lewin's journal in the United States Holocaust Memorial Museum, and on interviews from the film Paragraph 175, directed by Rob Epstein & Jeffrey Friedman, copyright Reflective Image Inc., used by permission. All rights reserved.
Homosexuality had been considered a crime in Germany since the late 1800s, and Paragraph 175—the pre-Nazi legislation outlawing it—remained in effect until 25 years after the war. The Reich considered homosexuality a symptom of "racial degeneracy," and homosexuals were incarcerated in prisons and concentration camps. Through the rigorous enforcement of Paragraph 175, the Nazis murdered thousands, and shattered the lives of countless others.
For many years Music of Remembrance had envisioned commissioning a work which would address this tragedy. Our challenge was to find a composer who could communicate its moral and historical importance, and to do so in a way that would be intimate rather than didactic. When I came to know Jake Heggie's music, I knew immediately that we had found the perfect composer for this work. In 2007 we commissioned and premiered Heggie's For a Look or a Touch, with libretto by Gene Scheer. This path-breaking musical drama accomplished something extraordinary. It tells a story that is historical and intensely intimate at the same time – illuminating the facts of the Third Reich's cruelties, while capturing the deeply personal emotions of two idealistic young gay lovers torn apart. The work--scored for baritone, non-singing actor and chamber ensemble-–has now entered the repertoire and touched the lives of people around the world.
The evolution of For a Look or a Touch into the new song-cycle version we hear tonight is an interesting one. Our 2007 premiere and recording generated immediate interest in settings of the work that could reach even broader audiences, and when I discussed this with Dennis Coleman, director of the Seattle Men's Chorus, he became an enthusiastic advocate. His organization commissioned a choral arrangement, for which Jake also added a new number: "A Hundred Thousand Stars," with a gorgeous melody and lyrics by Gene Scheer to break your heart. This theatrical choral version of For a Look or a Touch was a perfect fit for the large stage, but the work – especially with its magnificent new song – also called out for a solo setting that could be performed in the concert hall, the recital venue, or the intimacy of a salon. When I suggested this to Jake he jumped on board immediately, and tonight we'll experience the premiere of For a Look or a Touch's third incarnation. Drawing on the diary of the young Manfred Lewin, murdered in Auschwitz, the song cycle speaks with beauty and eloquence to profound questions of love, loss and remembrance.
String Trio – Serenade (1938)
László Weiner
(b. 1916 Szombathely, Hungary–d. 1944 Lukov labor camp)
A composition student of Zoltán Kodály, László Weiner also studied piano and conducting at the Budapest Academy of Music. After the enactment of laws that restricted appearances by Jewish musicians, Weiner was one of Hungary's Jewish stage and musical artists who performed at events presented by the Jewish cultural organization OMIKE. Many of OMIKE's concerts attracted non-Jewish critics who reviewed them in the general Hungarian press, and Weiner's conducting and piano performances received considerable note. Weiner was deported in 1943 to the Lukov forced labor camp in Slovakia, and murdered there the following year despite the attempt by his former teacher Kodály to intercede for his release.
Weiner's wife, the mezzo-soprano Vera Rózsa, survived after her husband's deportation by hiding with an assumed identity, and it has been said that her acting skills helped her to walk out of two Gestapo interrogations. While hiding from the Nazis, Rózsa worked with Raoul Wallenberg at the Swedish Embassy in Budapest to help protect thousands of Hungarian Jews. She went on to a prominent career as an opera singer and vocal teacher, living in England from 1954 until her death in 2010.
Weiner's music is performed too rarely, and we can only imagine the potential of this promising and original talent, murdered at age 28. The richly melodic String Trio – Serenade is thought to be Weiner's earliest surviving composition. Because no published score was available, programming it for tonight was a challenge. We are grateful to Agnes Kory, director of the Béla Bartók Centre for Musicianship in London, for introducing us to László Tréfás, to whom Vera Rózsa entrusted many Weiner materials. We are indebted to Mr. Tréfás for providing the private score copy from which our artists play tonight, and he has offered to donate this score to the United States Holocaust Memorial Museum after our performance.
Farewell, Auschwitz (2013)
Jake Heggie
(b. West Palm Beach, FL, 1961)
Poetry written by Krystyna Zywulska in Auschwitz, English adaptation by Gene Scheer
*World Premiere, Commissioned by Music of Remembrance
Made possible by generous gifts from Jonathan Green & Brenda Berry;
Lloyd & Janet Cluff; John & Bernice Lindstrom
At a 2007 international Holocaust conference in Krakow, Poland, I heard a paper by Swarthmore College professor Barbara Milewski about the incredible life of Krystyna Zywulska. After escaping from the Warsaw Ghetto she camouflaged her Jewish identity and joined the Polish resistance. Arrested by the Gestapo in 1943 and sent to Auschwitz-Birkenau as a political prisoner, Zywulska wrote satiric poems that were passed along by word of mouth, from prisoner to prisoner in the camp. Her moraleboosting lyrics were sung to popular songs of the day, and some became anthems of resistance. Zywulska's experience became the inspiration for commissioning a work through which her words could sing anew.
When I approached Jake Heggie about a work based on Zywulska's story, he saw an opportunity to create a profound statement about the struggle for social justice and human dignity. His 2012 musical drama Another Sunrise, with a libretto by Gene Scheer, captures the emotional intensity of the agonizing decisions that Zywulska was forced to make when faced by situations whose anguish we cannot begin to comprehend. Another Sunrise was an enormously courageous work on their part, daring listeners to look at survival in all of its moral and psychological complexity.
With Farewell, Auschwitz, which we premiere tonight, Heggie and Scheer complete this musical tribute to Krystyna Zywulska with a medley of actual verses that she wrote while assigned to work in the Effektenkammer during her final months in Auschwitz. Together, Another Sunrise and Farewell, Auschwitz are eloquent testimony to the human capacity to endure and remain true to principle even in the face of the most extreme cruelty. Jake Heggie and Gene Scheer have created two beautiful and important works that reflect their hearts as well as their genius.
We offer special thanks to Krystyna's son Tadeusz Andrzejewski for granting us permission to share his mother's Auschwitz poetry with the world.
Jake Heggie and Gene Scheer offer the following remarks about Farewell, Auschwitz:
Before being sent to Auschwitz-Birkenau as a political prisoner in 1943, Krystyna Zywulska had not written a single song. Writing lyrics and setting them to familiar folk, classical and popular tunes became her creative way to cope with the horror of life in the camp. She did not invent lyrics to save her life, but amazingly, they did just that. Appreciated by her superiors as the camp poet, she was given a premium job in the Effektenkammer (Room of Personal Effects): when a fresh transport arrived, she took inventory of the new prisoners' belongings before these hapless women and children were sent to their deaths in the ovens next door.
Last year, Music of Remembrance gave the premiere of our dramatic scene of survival, Another Sunrise. Caitlin Lynch was the soprano who portrayed Krystyna and her struggle to tell the truth of what happened to her; to try to find the words to describe the indescribable, what she had endured in the camp, and what was required to survive--to see another sunrise.
Farewell, Auschwitz is a companion piece to Another Sunrise that allows us to explore some of the actual lyrics that Krystyna wrote. Thirty-two complete song texts survive from Krystyna's time in the camp. There are an additional 54 fragments in a piece entitled Wiazanka z Effektenkammer ("Medley from the Effektenkammer"). Most of the lyrics for Farewell, Auschwitz are drawn from this extraordinary document.
In 1944, Krystyna crafted a long name-day card, which contained her texts and colorful drawings by fellow inmate Zofia Brato. Krystyna and 72 other prisoners signed and presented this remarkable gift to fellow prisoner, Kapo Maria Grzesiewska-Wojciechowska. On September 8, four inmates--including Krystyna--performed the songs for their beloved friend. (Source: Barbara Milewski: "Krystyna Zywulska: The Making of a Satirist and Songwriter in Auschwitz-Birkenau is Discovered Through Camp Mementos," Swarthmore College Bulletin, July 2009)
Krystyna's lyrics describe a broad array of experiences that prisoners faced each day. Her subjects range from whimsical gossip in the barracks to profound fears as well as dreams of rescue, survival and triumph. These lyrics are a window into the torturous psychological strain the prisoners faced as they tried desperately to hold onto their humanity while being forced to live in a place that defined the most inhuman behavior. Mostly, Krystyna's songs speak to the power of music and the imagination to liberate one from even the darkest despair.
The lyrics in the original medley were set to well-known tunes of the day. Rather than attempt the almost impossible task of identifying the original tunes and creating translations from Polish to fit them perfectly, Gene made free poetic translations, which Jake has set in a variety of ways: sometimes imitating music of the period, acknowledging the influence of Kurt Weill and film music, sometimes with very folklike melodies, and in two cases by using classical tunes: Liszt's La Campanella (after Paganini) and Chopin's Waltz, Op 64, No 2. As prisoners in a camp might do, the singers sometimes imitate instruments to fill in the blanks.
Gene's poetic translations are based on literal translations graciously made by his inlaws, Zbigniew and Anna Lechowski.
About Music notes by Mina Miller. Copyright 2013 Music of Remembrance.