Jan 27, 2015 - 12:00 pm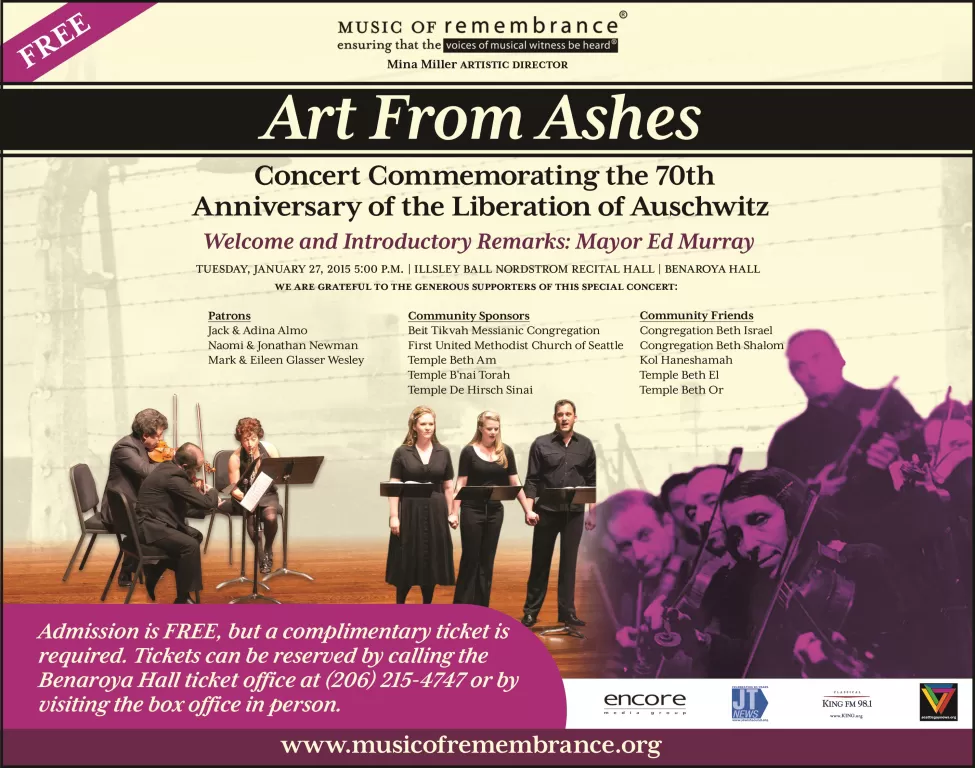 On January 27, 1945, Auschwitz-Birkenau, the largest Nazi death camp, was liberated by the Soviet army. Seventy years later, on Tuesday, January 27, 2015, Music of Remembrance (MOR) presented a community-wide free concert to honor this important moment in history. The musical program featured works by composers whose lives were cut short by Nazi persecution: Hans Krása, Gideon Klein,Viktor Ullmann, Ilse Weber,Carlo Taube,Robert Dauber, David Beigelman and Dick Kattenburg. Although they perished, their music remains as witness to their extraordinary courage. With this concert, Music of Remembrance joined organizations around the world in commemorating International Holocaust Remembrance Day. The free concert was an opportunity for the entire Seattle community to come together in honor of this milestone anniversary, and to experience a small part of the musical legacy left by those who continued to create inspired music even while in the hands of their Nazi captors. The concert took place on Tuesday, January 27th at 5:00p.m. at the Illsley Ball Nordstrom Recital Hall at Benaroya Hall.
Featured Artists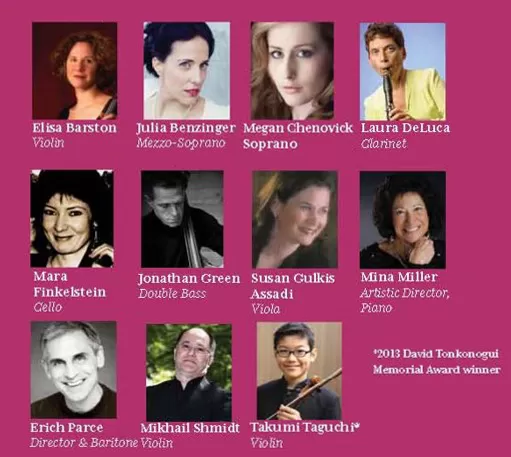 Instrumentalists
Elisa Barston, violin Laura DeLuca, clarinet Mara Finkelstein, cello
Jonathan Green, double bass Susan Gulkis Assadi, viola Mina Miller, piano
Benjamin Shmidt, cello Mikhail Shmidt, violin Takumi Taguchi, violin
Vocalists
Julia Benzinger, mezzo soprano
Megan Chenovick, soprano Erich Parce, baritone
Seattle Mayor Ed Murray - Introductory Remarks
Robert Dauber
Serenata (1942)
Violin: Takumi Taguchi, age 13
Piano: Mina Miller
 
About the Composers
David Beigelman – a violinist, conductor and composer – was imprisoned in the Lodz Ghetto. Under the ghetto's conditions of unimaginable oppression and suffering, he composed the Dybbuk Dances for solo violin. They were likely played as incidental music to performances in the ghetto of the iconic Yiddish play.
Ernest Bloch emigrated from his native Switzerland to the United States in order to escape the rising tide of Nazi repression in Europe. He died in Oregon in 1959 after a distinguished career as a composer and educator.
Robert Dauber experienced the war years as a prisoner in the Terezín concentration camp before deportation to Dachau, where he perished. A talented pianist and cellist, he played the cello in Terezin's orchestra, including performances of Brundibár. The Serenata for violin is his only surviving composition. 
Jake Heggie is one of today's most important composers. His operas like Dead Man Walking, The End of the Affair and Moby-Dick have been acclaimed at major houses around the world. Heggie is drawn to subjects that allow him to address questions of human rights through musical drama. His three Music of Remembrance commissions (For a Look or a Touch, Another Sunrise and Farewell, Auschwitz) are compelling explorations of the Holocaust's emotional impact on the people whose lives it touched.
Dick Kattenburg barely had a chance to experience life as an adult before the German occupation of Amsterdam shattered the world he knew. Kattenburg spent the war years in hiding until his betrayal and arrest. He was deported to the Westerbork transit camp and then Auschwitz, where he was murdered on arrival. Kattenburg, who died 24, never heard most of his music performed.
Gideon Klein was a 21-year old star student in Musicology at Charles University in Prague, and in piano and composition at the Prague Conservatory of Music at the time of the German occupation of Czechoslovakia. Klein, a Jew, was expelled from his studies and denied permission to travel. He was deported to Terezín in December 1941, and eventually to Auschwitz on the same transport as composers Hans Krasa and Viktor Ullmann. From there, he was sent to the Fürstengrube camp, where he perished.
Hans Krása is probably best known as the composer of Brundibár, the inspiring children's opera that was performed 55 times by casts of children in Terezin. Before the Nazi occupation of Czechoslovakia in 1939, Krasa was an important member of the artistic community of Czechs and Germans who gave rise to Prague's distinctive cultural life. Krása was deported to Terezin on August 10, 1942 and imprisoned there for 26 months before sent to his death in Auschwitz.
Carlo Taube was a concert pianist before his imprisonment in Terezín. His only surviving composition, Ein judische Kind (A Jewish Child), sets a text by his wife Erika. In 1944 the Taubes and their child were murdered in Auschwitz.
Viktor Ullmann was raised a Catholic, converted to Protestantism and later returned to Catholicism. Still, he was classified Jewish under Nazi racial laws. Ullmann was deported to Terezín in September 1942. During his two years there, he was at the center of the camp's intellectual and artistic life. He was on the same transport to Auschwitz as Hans Krása and Gideon Klein. Like Krása, he was murdered on arrival there.
Ilse Weber was a poet and a writer of children's books, and she also produced programs for the radio in Prague. In Terezín, she worked in the children's infirmary, and comforted many children with her words and music. Anticipating her family's likely fate, Ilse had arranged for her elder son Hanus to leave Czechoslovakia before the occupation on a Kindertransport. Ilse and her younger son Tommy were murdered in Auschwitz. 
Music of Remembrance depends on the support of individuals and organizations to produce free concerts. We are especially grateful to the generous individuals and organizations who helped make this special concert possible:
Patrons

Eli & Rebecca Almo

Jack & Adina Almo

Jonathan & Naomi Newman

Samis Foundation

Mark Wesley & Eileen Glasser Wesley

Freddie Yudin

Community Sponsors

Beit Tikvah Messianic Congregation

First United Methodist Church of Seattle

Temple Beth Am

Temple B'Nai Torah

Temple De Hirsch Sinai

Community Friends

Congregation Beth Israel

Congregation Beth Shalom

Herzl-Ner Tamid Conservative Congregation

Kol Haneshamah

Temple Beth El

Temple Beth Or

Media Sponsors

Classical KING FM

Encore Media Group

JT News

Seattle Gay News